MAXHUB X3 Conference Flat Panel
Free and boundless collaboration

MAXHUB conference flat panel is an innovative efficient office equipment, with writing, presentation, and collaboration functions.
Through breaking the barriers of conventional meetings and cooperation,
MAXHUB makes your work efficient and collaborative by wirelessly connecting multi-terminals and multi-person.
Ultra large, thin, clear create extraordinary vision
MAXHUB Ultimate series have up to 88.9% screen-to-body ratio 4K ultra large screen.
Highly integrated machine has only 19mm thickness,
exquisite appearance, and stunning immersive sharp images,
making it a perfect match for your superior offices.
Intelligent writing frees your imagination
P-cap and EMR combined touch technology gives you enjoyable and delightful writing experience. Intelligent and user-friendly graphic and table assistant design satisfies your efficient writing needs.
Free annotation records your inspiration
Annotation is available at any interface to record your inspiration. When playing PPT, your annotation can be created in every page and easily saved.
Multi-screen interaction eliminates the cable limitation
MAXHUB brings you convenient connection and presentation.
You can share photos and documents on the big screen wirelessly through PC, smartphones, and tablets.
Control the big screen at your seat with aforementioned mobile devices.
Every presentation and communication experience is beyond imagination.
Touch and share, mirroring can be done through mobile devices
Free multi-terminals connection can be achieved on PC or mobile device with MAXHUB Wireless Screen Sharing Dongle and related software, supporting up to 4 devices mirroring simultaneously and providing you clear comparison.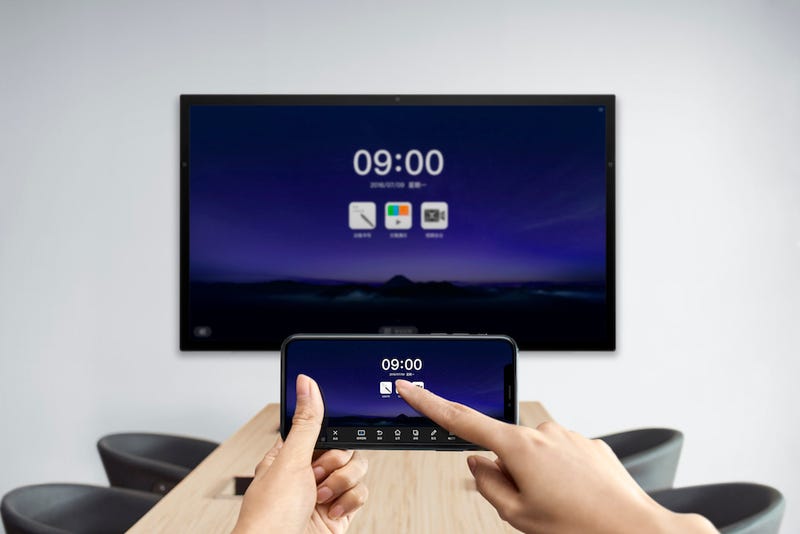 Double-directional operation creates flexible and efficient interaction
With MAXHUB Wireless Screen Sharing Dongle, you can operate PC reversely with MAXHUB Conference Flat Panel, or use mobile devices directly operate MAXHUB to write, annotate, present etc.
Remote collaboration, leading the fashion of boundless office
Built-in camera, voice picking-up, and speaker modules 12MP,
Intelligent triple cameras and 8m voice picking-up.
Standard vs Ultimate Series
Maxhub X3 Standard (S Series)
1.3cm Ultra narrow frame
4K HD Display
8-megapixel built-in camera
6 arrays built-in microphone
High precision infrared touch control technology
Dual system, optional PC module
Maxhub X3 Ultimate (U Series)
1.9cm Ultra-thin appearance
4K Ultra HD Display
Full Lamination Technology
ELED side entry backlight
6 arrays built-in microphone
Three 12-megapixel built-in camera
88.9% screen, flat appearance
P-CAP+EMR Touch
Dual system, standard with PC Module
Case Study
MAXHUB Home Office Solution


To protect employees from COVID-19, most enterprises are advising their staff to work from home. MAXHUB interactive flat panel empowers enterprises and individuals to collaborate efficiently and share new
ideas in real-time even from afar.
Download to find out more.
MAXHUB Tele-training Solution
Face-to face communciation is no longer a necessity for having a training session. It could be less laborious and time-consuming. MAXHUB moves it online but with almost real-life interaction and engagement.
Download to find out more.
As the COVID-19 spreads across the globe, medical institutions and health workers are faced with growing challenges. Reducing the risks of infection amongst medical staff and coordinate medical supplies across the nation is vital in the days lay ahead.
Download to find out more.
Want to know more about Maxhub?