End User Computing Services
Delivering the most complete Suite of End User Computing Services in the industry. Complete with Service Desk, Remote Assistance, Product Warranty Repair & Deskside Field Support Services
Delivering Quality with Established Foundation
Our Service Management Philosophy advocates a structured and defined approach to achieving service excellence.

People
In training, developing & uncovering talent in our People, we form the crucial element in ensuring proper skills, relevant knowledge and related experience are at the front seat in driving the organisation or project objectives.

Process
With the right people at the right places, the processes would be identified, designed and reviewed on regular basis to ensure relevance and objectives-driven.

Technology
Through automation with the right technologies, efficiency takes on a new dimension in achieving the overall objectives.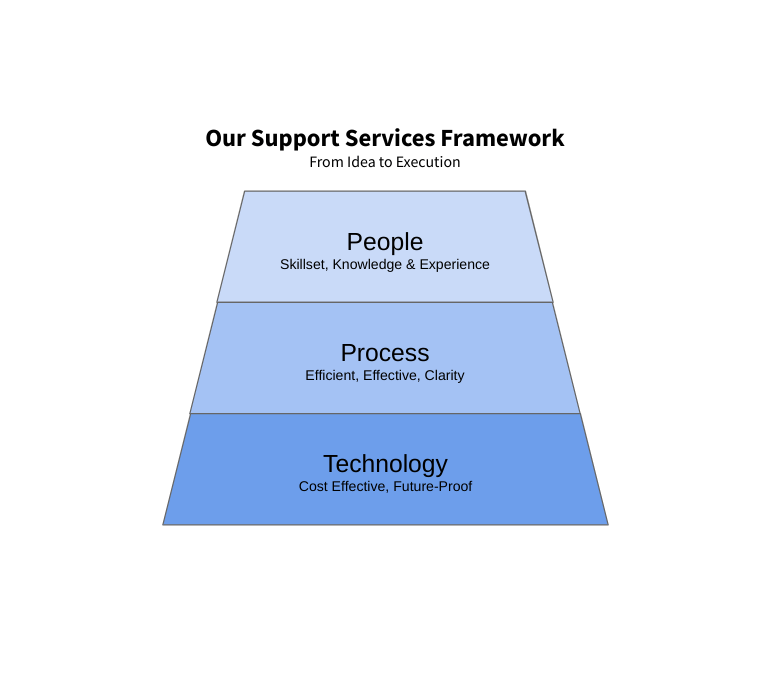 End User Computing Services
Service Desk (IT Technical Helpdesk)
Provides Remote Support for Incident & Requests Management through telephone, email, chat and platforms including Slack & Teams
ITIL-based Support Processes
Perform Remote Assistance & Resolution with Technology
Manage End User Accounts Administrations (Active Directory, O365, GSuite)
Software Applications Update
Deskside Field Support
Provides Field Onsite Resolution at site
Committed Onsite Response Time, from Next Business Day Response to 2-hours Response
Committed Resolution with Loaner Equipment
"One-Engineer" Concept for resolving both Product Warranty and Deskside Support issues in One Single visit
Coupled End User Computing Deskside Field Support with our Lenovo and HP Product Warranty Support - Efficient & Effective.
Solutions Specialists
Champion on End User Computing Support Framework, Technologies & Projects
Skilled Microsoft Windows Desktop Environment Specialists
Automate with Endpoint Client Management Systems (MDT, SCCM, BigFix)
Integrate with HP & Lenovo Endpoint Management Software applications (HP MIK, Lenovo Diagnostics, etc)
Elevated Support to Service Desk & Deskside Teams
Per-Incident
Resolving your End User Computing issue with a phone call away through either a remote assistance or an onsite field visit within the same day for emergency cases.
Packaged Support
From a small 3 person branch office to a 200 staff regional workplace, our flexible Packaged Support allows you to purchase Support Hours as and when your business requires. Packaged Support Hours range from 12 hours/year to more than 300 hours/year.
Managed Services
With a comprehensive support capabilities, we can tailor our services to your specific needs; offering the full spectrum of End User Computing services from Services Desk, Deskside Field Support, Office 365 Administration, and many more.
Managed Configuration & Deployment
From maintaining your End User Computing catalog to hardware fulfillment with committed Service Level, and deployment with profile & data migration, we can provide you the full suite of configuration and deployment services.
Managed Migration
Be it migrating endpoint devices' Operating Systems or deploying new application through Microsoft SCCM, we can help you plan the project, detail the transition and execute the migration.