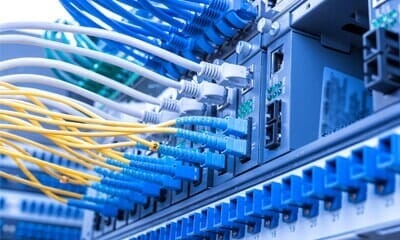 Our ICT Structured Cabling Services
We design and install Structured Cabling Systems that support multiple hardware uses not only for today's needs, but are of future proof as well.

From requirements assessment, performing detail site surveys, drafting proposals and project manage the successful deployed installation, our services are assured of quality and professionalism.
ICT Structured Cabling Subsystems
We provide structured cabling for all 6 kinds of subsystems;


Entrance Facilities is the point where the Internet Service Provider network ends and connects with your office on-premises wiring.
Equipment Rooms house equipment and wiring consolidation points that serve the users inside the building or offices.
Backbone Cabling is the inter-building and intra-building cable connections in structured cabling between entrance facilities, equipment rooms and telecommunications closets.
Horizontal Cabling wiring can be standard inside wiring or plenum cabling and connects telecommunications rooms to individual outlets or work areas on the floor, usually through the wireways, conduits or ceiling spaces of each floor.
Telecommunications Rooms or commonly known as "Server Rooms" connects between the backbone cabling and horizontal cabling.
Work-area Components connect end-user equipment to outlets of the horizontal cabling system.